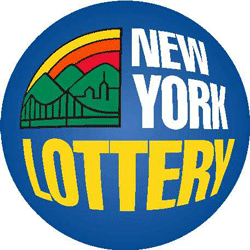 Draw Stations
New York, WABC 7
Binghamton, WBNG 12
Buffalo, WGRZ 2
Elmira, WETM 18
Plattsburgh, WPTZ 5
Rochester, WHAM 13
Syracuse, WSYR 9
Watertown, WSYR 9
Albany, YNN 9
How To Claim
Players may claim a jackpot-winning prize at the regional claim center nearest them. The Lottery may make special arrangements to keep claim centers open for extended hours or over the weekend in the event of a record jackpot.
Subscriptions
Please follow this link to find out more about subscriptions from the New York Lottery.
http://www.nylottery.org/ny/nyStore/cgi-bin/ProdSubEV_Cat_333603_NavRoot_306.htm?#337610
Beneficiary Information
Education statewide
Retailer Bonus Structure
6% sales commission on any New York Lottery ticket; $10,000 bonus for selling a jackpot-winning MM ticket.
Tax Information
Effective January 1, 2012 ''? Federal: 25%, State: 8.82%, New York City residents: 3.876% and Yonkers residents: 1.323%
Contact Information
Web Site:
http://nylottery.ny.gov
Address:
One Broadway Center
P.O. Box 7500
Schenectady, New York 12301-7500
Phone Numbers:
1-518-388-3300 (Main Number)
1-518-388-3415 (Press Office)
1-518-388-3423 (Fax)
1-518-388-3584 (TDD)